Chassis
Jump to navigation
Jump to search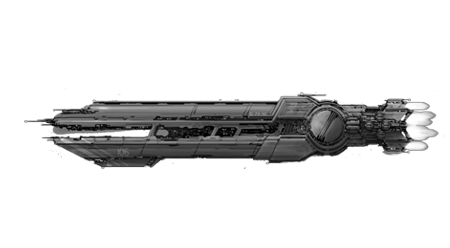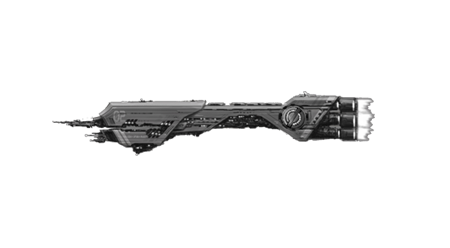 The chassis is the most important module of a ship. It conforms all the basic structure and the most elementary systems like the bridge of command. The chassis determines some maximum characteristics of the ship as the maximum volume for modules and weapon systems that can be installed. Every chassis requires a basic crew and an amount of energy, which will be greater the larger the chassis.
There are two main classes of chassis: the combat chassis and the transport chassis. The former are more resilient, have a greater number of points to install weapons and are lighter than the transport chassis. It is possible, however, to provide a transport chassis with a fairly high combat capability by installing weapons and armor, as well as providing a combat chassis with a basic carrying capacity.
The most advanced chassis are unlocked as you progress through the technology tree. However, there are some types of unknown origin that can only be obtained as reward in some missions.
Object list
| Name | Installation time | Fighter hangars | Space | Estructure | Presence | Weapon systems S | Weapon systems M | Weapon systems L | Weapon systems XL | Size | Maintenance |
| --- | --- | --- | --- | --- | --- | --- | --- | --- | --- | --- | --- |
| Microhauler | 2h | 0 | 350 | 250 | 15 | 0 | 0 | 0 | 0 | S | 50 |
| Frigate | 6h | 0 | 425 | 1,250 | 12 | 3 | 0 | 0 | 0 | S | 75 |
| Corvette | 4h | 0 | 375 | 1,000 | 10 | 2 | 0 | 0 | 0 | S | 50 |
| Destroyer | 1d 1h | 0 | 550 | 1,500 | 14 | 3 | 1 | 0 | 0 | M | 125 |
| Light cruiser | 1d 6h | 0 | 675 | 2,500 | 16 | 3 | 2 | 0 | 0 | M | 175 |
| Heavy cruiser | 2d 2h | 0 | 900 | 4,000 | 20 | 3 | 2 | 1 | 0 | L | 300 |
| Battleship | 2d 22h | 0 | 1,050 | 6,000 | 25 | 3 | 2 | 2 | 0 | L | 400 |
| Light freighter | 5h | 0 | 550 | 2,000 | 18 | 1 | 0 | 0 | 0 | S | 75 |
| Heavy freighter | 10h | 0 | 800 | 4,000 | 28 | 1 | 0 | 0 | 0 | M | 150 |
| Superheavy freighter | 20h | 0 | 1,500 | 6,000 | 35 | 1 | 1 | 0 | 0 | L | 225 |
| Lance frigate | 6h | 0 | 425 | 1,500 | 12 | 3 | 0 | 0 | 0 | S | 65 |
| Lance cruiser | 1d 6h | 0 | 675 | 3,000 | 16 | 3 | 2 | 0 | 0 | M | 125 |
| Lance battleship | 2d 22h | 0 | 1,050 | 7,000 | 25 | 3 | 2 | 2 | 0 | L | 250 |
| Lance freighter | 5h | 0 | 550 | 2,000 | 18 | 1 | 0 | 0 | 0 | S | 75 |
| Dagger | 4h | 0 | 450 | 2,000 | 5 | 1 | 0 | 0 | 0 | S | 35 |
| Archaea | 5h | 0 | 550 | 3,000 | 12 | 3 | 0 | 0 | 0 | S | 55 |
| Hypnos | 6h | 0 | 750 | 6,000 | 16 | 3 | 1 | 0 | 0 | M | 65 |
| Ares | 20h | 0 | 1,200 | 10,000 | 25 | 3 | 2 | 2 | 0 | L | 150 |
| Fobos | 4d 4h | 0 | 2,200 | 40,000 | 70 | 4 | 4 | 3 | 2 | XL | 600 |
| Dreadnought | 4d 4h | 0 | 1,400 | 10,000 | 35 | 3 | 3 | 3 | 0 | XL | 600 |
| Leviathan | 5d | 0 | 1,700 | 15,000 | 50 | 2 | 2 | 2 | 2 | XL | 900 |
| Drako | 8h | 0 | 3,700 | 15,000 | 45 | 0 | 0 | 0 | 0 | XL | 400 |
| Light carrier | 2d 2h | 1 | 850 | 2,000 | 20 | 0 | 0 | 0 | 0 | M | 200 |
| Heavy carrier | 3d 8h | 2 | 1,300 | 4,000 | 30 | 0 | 0 | 0 | 0 | L | 600 |
| Superheavy carrier | 4d 4h | 3 | 1,900 | 8,000 | 50 | 0 | 0 | 0 | 0 | XL | 900 |
| Titan | 10d | 3 | 4,000 | 40,000 | 200 | 5 | 5 | 5 | 5 | XXL | 2,000 |